Web version 2.0 is now available for all users!
Run Trainer web 2.0
Improved performance, security and new sharable run!
Since 2011 we have been working day and night on improving the runtrainer.com website and the online training hub on RunTrainer.com. As more and more people are running with the RunTrainer app, we wanted to improve our infrastructure so the app remains functioning fast, steady and secure. Today we are happy to announce a move to a new and faster servers is complete and none of your training sessions are lost. This move allows us more space to improve upon the services.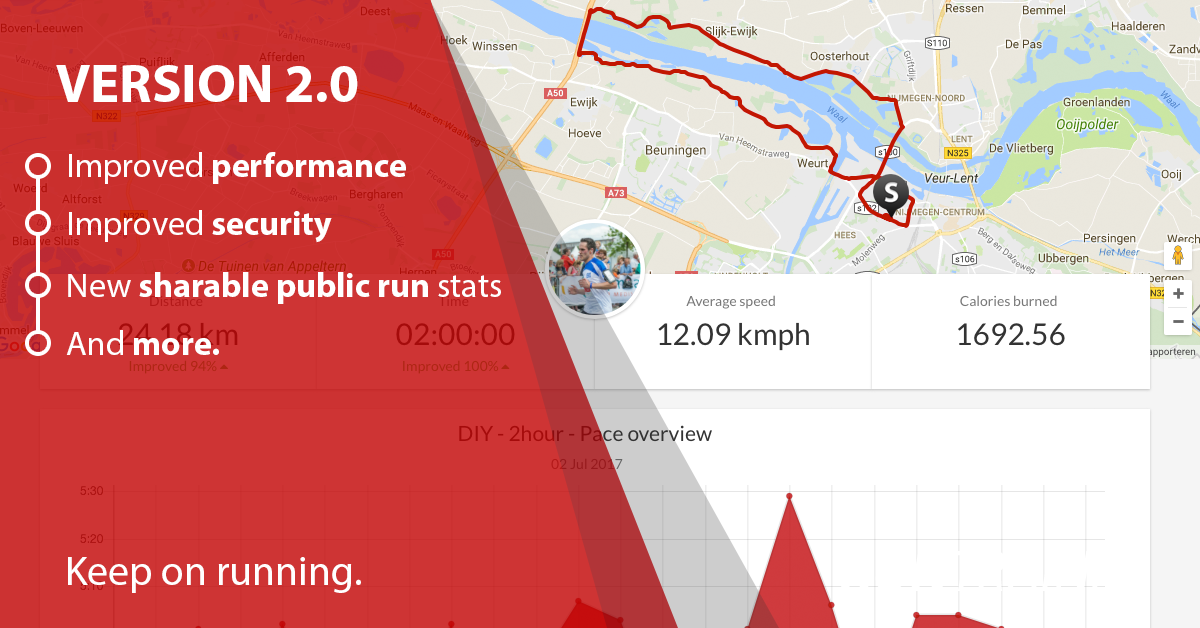 Will you notice any difference? Not aesthetically, but from now on the services will be reliable as we keep introducing new users on the platform. So as more and more people start using Run Trainer, the speed of handling your records will not be slowed down. But of course there are some changes you can use directly as well to celebrate our big step!
What can you expect from the Run Trainer website version 2.0:
Improved features:
New shareable MyRun URL.
Sharing more stats!
When you finish a training in Run Trainer you are able to share your stats via Twitter and Facebook. Sharing your stats with your friends and family help you keep being motivated to run and see your progress. Starting today the new 'MyRun'' statistic page will be available for you to share Facebook and Twitter. Also, you can share your training when logging in via the runtrainer.com portal.

Stats will show how you improved compared to your last training.
The green text will indicate if you improved in %.

When sharing your public statistics you will see how well you improved your stats compared to your last training session. Only improvements will be shown to keep you motivated!

New graph that shows your pace overview
Faster overview how well you ran

When you are running for a longer time it's all about learning your pace. Everyone has it's own 'perfect' pace to keep running for a longer time within a training session. These insights will help and show your friends how steady you ran.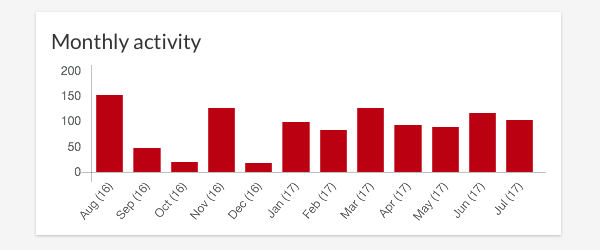 New graph that shows your monthly activity
Show the distance you ran per month

The new monthly activity graph shows how many K's you ran. The graph is spread over a year so you can see your improvements over several months at a time.

All your totals in one overview
Show all your stats you ran with Run Trainer!

New stats available, show your total distance, time and average pace you ran with Run Trainer!
You can share your Run via the Run Trainer app (iOS and Android version) or via the RunTrainer.com training portal.
We hope you enjoy the redesigned shareable training!
This sums up all the improvements for this version.
Why these features?
As noted, we receive lots of feedback from our users with great ideas to improve the app. All the ideas are being kept safe and prioritized on lists for future releases. This version was all about introducing the top 3 most requested features and we continue to update the app with requested features.
Have a great idea for Run Trainer? Just drop us an e-mail.
Currently we are waiting for Apple to approve this update so it will be available for you to download as an update. Keep an I out for the update or check the news in the Run Trainer app.
Want to be part of the BETA group, send us an email and we might invite you to test the newest versions first…