Run Trainer 5.2 is now available as update in the App Store!
Run Trainer version 5.2
iOS 10 supported + Share online + Free Run autosync
After our big iOS update to version 5.1, our next objective is to keep you running when using iOS 10. And on top of that, we added some new features to improve the complete platform!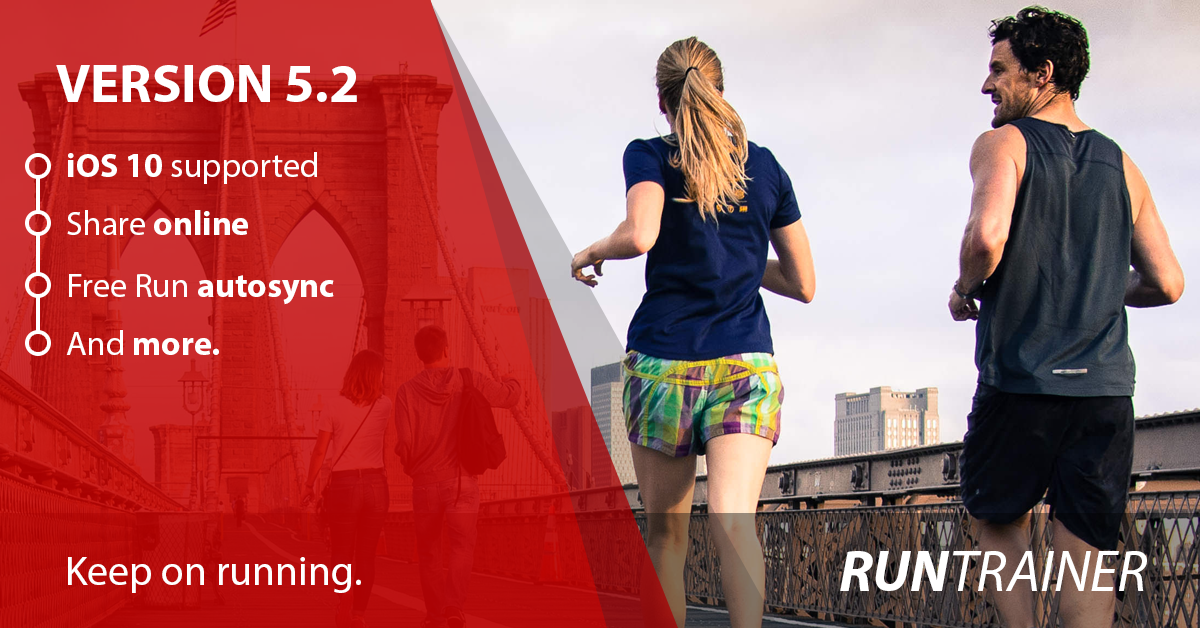 What can you expect from Run Trainer version 5.2:
iOS 10 support:
During the beta releases we noticed Run Trainer needed some minor improvements and fixed these in this update. When you install iOS 10 on your iPhone you will be safe to use Run Trainer without any hiccups. So enjoy your newest system and keep enjoying Run Trainer as you know it.
---
Feature updates:
Social sharing update:
Share your run easier with a lot more details to show your friends.
After you finish a lesson or event you were able to share your run. A screenshot of the route + stats would be visible on Twitter or Facebook, but some cool details were missing. In version 5.2 your social message will now include a link with detailed stats to your runtrainer.com lesson overview. Your route will be visible on a map and detailed stats will be available for your friends, family and other followers. You can see the new sharing link after updating to Run Trainer 5.2 . Happy running, happy sharing!
Free Run (Pro):
auto sync your stats.
When you finish a Free Run it's no longer needed to manual press the sync button to upload your stats to account on your runtrainer.com cloud storage. Your run will now automatically be saved. Never lose your data!
---
Bugfixes (iOS 10 related):
Free Run (Pro) setting up a run:
When entering a goal or notification of X minutes the keyboard would stick on the screen until pressing Start Training. No more!
Auto sync lesson from the Training Center:
When finishing a lesson the auto save feature didn't work. This bug is now fixed.
Playing your music without a playlist:
When starting a training or free run, the app started playing a random song from your music library, even when the playlist is clear. This bug is now fixed.
Countdown bug:
When starting a training or free run, the countdown (3-2-1) feature stopped working. It works again.
---
System update:
New SWIFT version
As we continue to improve the app, we updated our SWIFT version to a newer version. You won't notice the difference on short term as a user, but this is important to keep working towards our future releases.
That's all for this version.
This rounds up all the improvements in Run Trainer version 5.2 for iOS. The update is currently on it's way to be approved by Apple and we will notice you in the Run Trainer app when the update will is available for you.
Want to recieve the latest news?
This and more news will be announced via the Run Trainer app and our social media channels. Stay up to date with the latest news by following us on Twitter or Facebook.
Want to receive the newest (BETA) version?
Can't wait to start running with the newest version? One that other people can't use yet! We are sending out the latest BETA versions to a select group of users to test before is goes public. If you want to sign up for BETA testing you can apply using the following form:
If you are one of the lucky users you'll receive an invite to install the newest version soon. All we ask from you is to drop us an email with your personal experience regarding the new versions.