Apple Watch
Run Trainer available on Apple Watch and HealthKit support
It has been a long time coming and now it's time to run with Run Trainer on your Apple Watch. We've been keen on supporting the Apple Watch since day one. Many of you send us feedback requests to support the device and now we can say it's that time.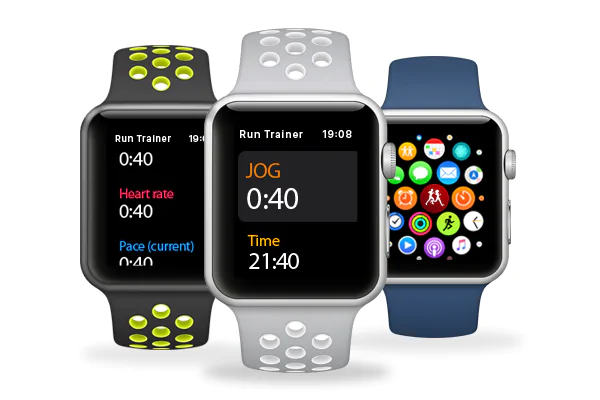 Run Trainer now supports your Apple Watch.
The Apple Watch is here for a few years now, but the support for apps was pretty bad. One of the main reasons we didn't support it yet was the quality standards we wanted to match for our users. But since Apple announced WatchOS 5 it gave us the determination to start working on the first steps to support the watch.
Apple Watch version 1.0
The first version of Run Trainer for Apple Watch (let's call it version 1.0) is back to core functionality. The main focus is helping you to start your workout, see the most important stats and finish from the watch. How its works:
Select your training on the iPhone and progress to the location (GPS found) screen. When you see the location screen, you can place the iPhone in your armband or pocket and press start on your watch to start running. During your workout, you can view your current step (with countdown how long till next step), see your total distance, time and heart rate. Need to pause? Simply scroll down to pause your workout, this will automatically pause the app on your phone. Finished your workout? Press the stop button and you will see your stats.
This is the first step
So this first iteration is an essential version which still requires you to run with your iPhone. One of the reasons we did this is to speed up the deployment of the watch extension and in case of emergencies, you will still have your phone with you (most countries don't support 4G on your apple watch). Version 1.0 is the beginning of our watch journey, we like to receive your feedback (below) so we can improve the watch version together with you, our runners. We already have a roadmap (a rough outlining) to deliver a greater user experience and functionality in 2019 and 2020. These plans are not set in stone so we will adjust these plans when we learn more about the usage and feedback from our runners.
Now you no longer need the iPhone to see how the session is progressing so you can completely focus on the running with just quick glances regarding the progress.
So if you have a watch, grab the latest update right now from the App Store and we would love to hear your feedback!
Enable HealthKit for Run Trainer
Even without an Apple Watch, you can still use the new connection with the health app by enabling Healthkit in Run Trainer. Your stats can now be sent to the health app on the iPhone. If you have weekly goals this will automatically be supplemented with your Run Trainer efforts now. We hope that this helps you to summarize all your efforts and thus to keep up a healthy life.